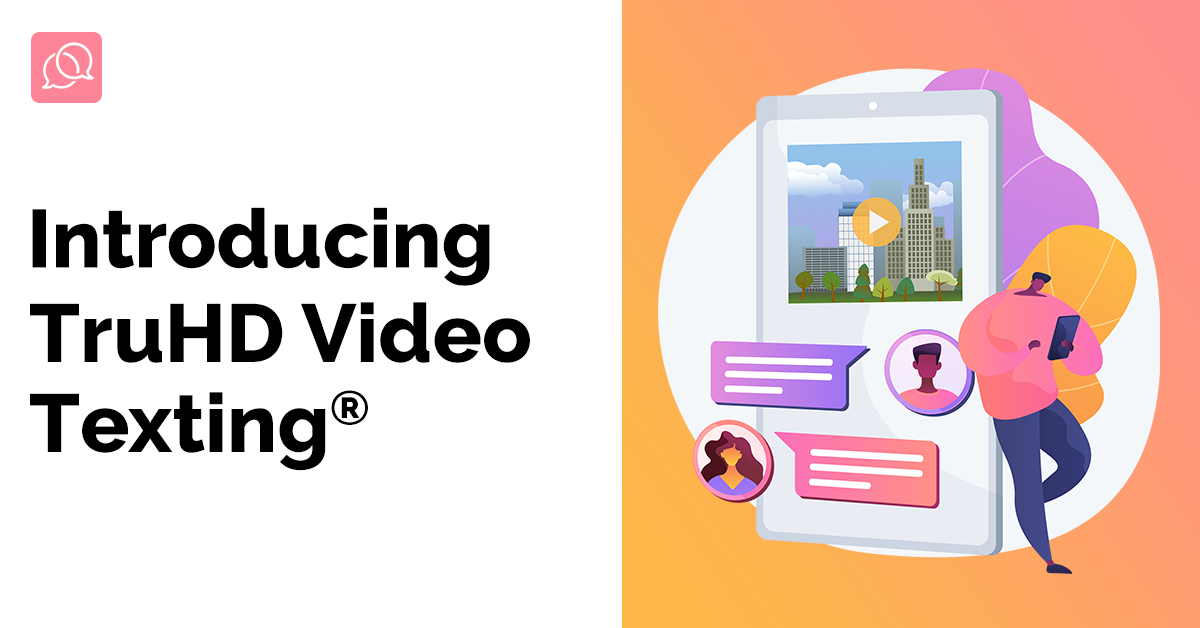 We are excited to announce our newest feature, Video MMS Texting! Introducing the first and only full 1080p video over your text messages. For the first time in history you can send full HD video with P2P Texting to engage your audience and capture their attention.
With the launch of Peer to Peer Texting, political campaigns have had access to an innovative new tool. Because of this, campaigns can reach and engage more voters than ever before. Our video texting feature takes this concept to a new level and it enables users to quickly and easily send high quality videos to their constituents. 
This innovation will disrupt the campaign and commercial space by allowing candidates to deliver cinematic quality, highly targeted videos directly to people's phones and also allow them to track open rates on included links. Furthermore, studies show texts have a 98 percent open rate making the ability to deliver studio quality video via text a game changer in politics. 
Full 1080p Video Over Text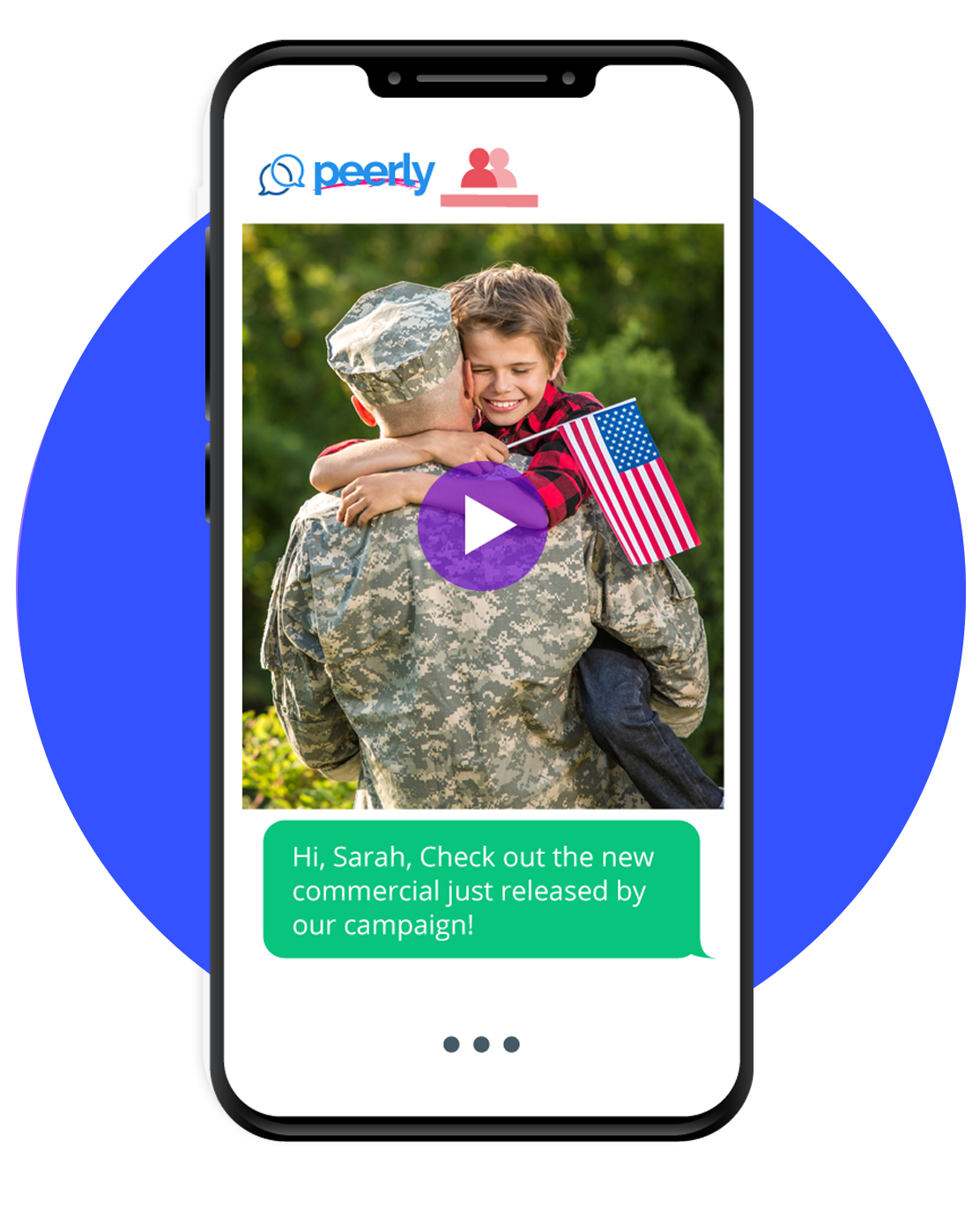 Above all, along with being powerful, our video texting feature is affordable and with prices starting as low as 3¢ per video text, our services are half the price of our competitors. In addition, our videos are up to 4 times the resolution of any other video texting service out there. You can send videos up to 60 seconds in length without sacrificing your video quality. Never compromise! Commercials cost thousands of dollars, don't ruin it with a low resolution, choppy video text experience. 
You can send text along with your video and really make your message stand out. That is to say, you can send up to 2000 characters with clickable links, emojis and Peerly's SMS Fonts all with no extra charge to you.
TruHD Video Texting® and TruVoice Quality
Peerly's video texting delivers high resolution HD video for peer to peer text messaging. This is ideal for political campaigns and other fast paced communications. Our video has over 1 Billion sRGB colors represented. As a result, the videos are very vibrant and eye catching. TruHD Video Texting® is a cinematic experience on your phone! And with our True In Message Playback, video plays directly in the text message window & is not linked. As a result, the receiver of the message can watch the full video directly in the text message!
Peerly offers TruVoice quality sound which enhances bass and treble to the maximum signal audio output giving videos a deep, rich sound. In other words, users can be confident that every message will be clearly conveyed.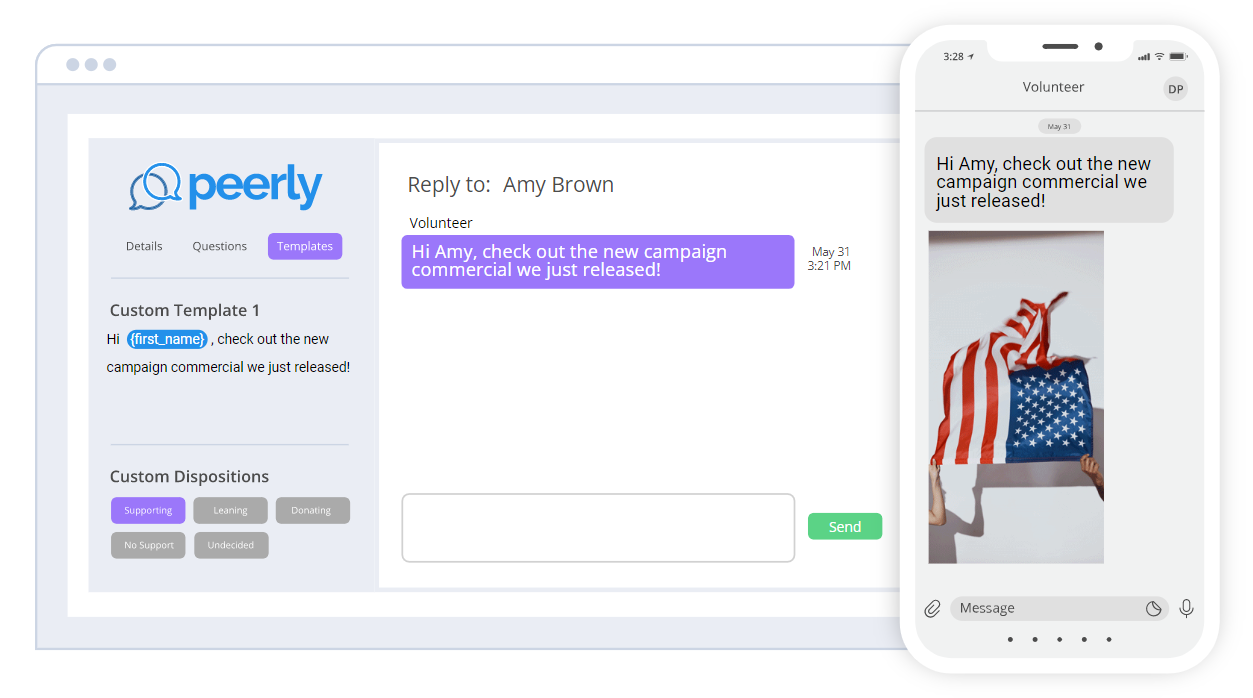 More Amazing Video Texting Features!
Surpassing all industry standards, with Peerly you can include up to 2000 characters with your video text! That is to say, 2000 characters that you can use to craft the perfect, personalized message!
Peerly also takes the guesswork out of choosing the most eye catching thumbnail for your video with our Excite Thumbnail® AI Engine. Our system scans your video and uses 10 data points to select an exciting thumbnail that will really pop. Of course, if you would rather choose your own, you can do that as well.
Don't take our word for it, test it live! Sit down, get some popcorn and see a live test of our TruHD Video Texting®. Visit the Peerly website, input your phone number and we will send you a sample video text! See for yourself the quality and resolution that you will get with Peerly!
As always, Peerly strives to provide our users with the best possible experience. We hope you enjoy our newest feature, TruHD Video Texting®! If you want to get started with the most advanced Peer to Peer Texting experience available today, sign up for your risk free trial now!