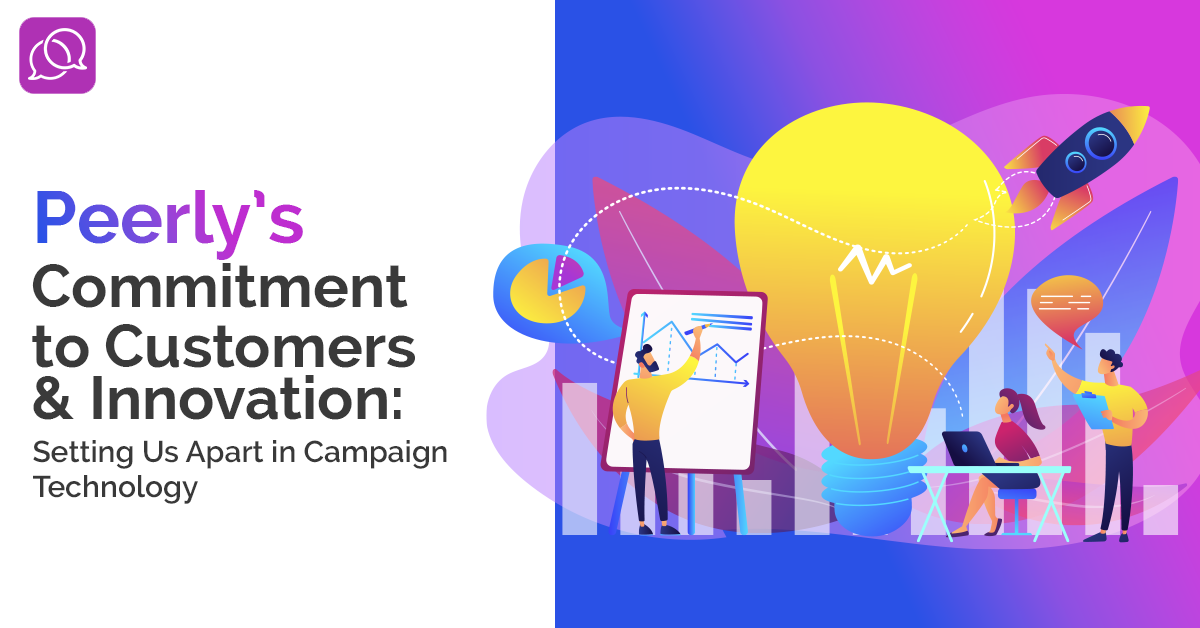 The world of political campaigning is a dynamic space, continually evolving with the times and trends. At the heart of this revolution, Peerly stands as a beacon of innovation, redefining the standards of campaign communications. So, what truly sets Peerly apart in this saturated industry? The answer lies in our dedication to customers, our relentless pursuit of innovative solutions, and our understanding of the political landscape's unique demands.
Empowering Campaigns of All Scales
Regardless of the size or budget of a campaign, Peerly believes in equal access to cutting-edge technological solutions. Our mission revolves around democratizing campaign tools, ensuring that every campaign has the tools to resonate with its audience. This ethos is evident in our pricing structures and our suite of products tailored to meet diverse campaign requirements.
Peerly is Revolutionizing Campaign Communications
Peerly's foray into campaign technology has seen the birth of trailblazing tools like AMP AI, HD Video Texting, Dynamic Personalization, and Custom Font Messaging. These aren't mere tools; they are reflections of our dedication to harnessing technology's immense potential and reshaping campaign communications. Through AMP AI, for instance, we address the pressing challenge campaigns face: managing overwhelming voter inquiries in large-scale text campaigns. Not only does this AI-driven tool process and reply to such influxes, but it also generates invaluable insights that campaigns can leverage for hyper-targeted communication.
Unwavering Dedication to Ethical Innovation
As pioneers in the integration of AI into political campaigning, Peerly recognizes the responsibility accompanying such powerful technology. However, ethics isn't just a component of our operations; it's the foundation. Our commitment to compliance ensures that our solutions respect boundaries and operate within the highest standards. This dedication to ethical innovation speaks volumes about Peerly's approach – an approach that values impact over mere advancement.
Building Trust through Direct Communication
In an age where information overload is common, Peerly facilitates genuine connections between voters and campaigns. By bridging this gap, we're enabling voters to access trusted information directly from campaigns, ensuring an informed and connected electorate. This isn't just about technology; it's about fostering trust and understanding, cornerstones of any successful campaign.
Peerly Always Prioritizes Client Success
What truly underscores Peerly's distinctiveness is our unwavering passion for client success. Furthermore, we're not content with just supplying tools; we aim to integrate seamlessly into our clients' workflow, enhancing their campaign's effectiveness. Our innovations, like the groundbreaking P2P mobile application, reflect our commitment to redefining the campaigning experience for the modern era.
Unparalleled Support: Peerly is Always There for Our Clients
Peerly stands out not only for our innovative solutions but also for our unparalleled commitment to client support. We recognize that in the fast-paced world of campaigning, our clients require assistance that's both prompt and reliable. To address this, our support team is available seven days a week, 12 hours a day, offering real-time assistance via telephone and chat. We pride ourselves on going the extra mile, ensuring that our client's concerns are addressed efficiently and their experience with Peerly remains seamless.
Industry-Leading Pricing: Democratizing Campaign Communications
Cost-effectiveness is paramount in campaign strategies, and Peerly leads the charge in providing affordable solutions without compromising quality. Our competitive pricing is a testament to our understanding of campaign budgets and our commitment to ensuring that cutting-edge technology is accessible to all. Moreover, our influence in the industry has been pivotal in driving down the overall costs of texting. By championing affordable communication tools, Peerly has empowered campaigns with budget-friendly solutions. Consequently, this has played a significant role in making text campaign communications more economically viable for the entire industry.
In conclusion, Peerly is not just a company offering campaign solutions. It's a movement, a vision, and a promise. A promise to always prioritize our customers, continually push the boundaries of innovation and respect the great responsibility that comes with reshaping political campaigning. As the landscape evolves, Peerly's commitment to its customers and its passion for innovation remain unwavering, ensuring that we don't just follow trends but set them. This dedication, coupled with our suite of state-of-the-art tools, truly sets us apart, solidifying our position as leaders in campaign technology.